:salams
I was reading about choking the other day and came across some interesting figures.
Anyone can choke when eating, sadly, many people don't know what to do to help them.
According to a report from the National Safety Council, choking causes 3,900 deaths per year, which makes choking the sixth leading cause of accidental death in the United States.


Within about

four minutes

[of choking] the victim will suffer

permanent brain damage

.




Within about

five minutes

[of choking] the victim will be

dead

.
Symptoms of Choking:
Choking victim is unable to breathe or to speak.

Then, because not enough oxygen is reaching the brain, the victim becomes pale, turns blue, and falls unconscious.
What to do? Apply the Heimlich Maneuver!
Standing:
Sitting:
Kneel behind him.

Put your arms around both him and the chair, and perform the maneuver in the same way.
Lying down:
Here's a demo: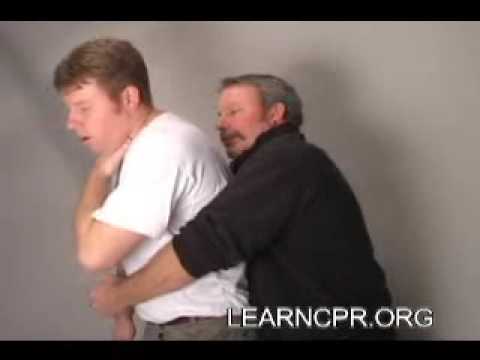 Extracted from The Heimlich Maneuver, by Kelly Marti