Yes! Yes I do, and it's better than non vegan ones.
Unfortunately I've not found a vegan vanilla cake recipe that tastes like a traditional vanilla cake, but who needs vanilla when you have chocolate?
https://anditsallvegan.blogspot.com/...-cupcakes.html
I use metric cups, and it works fine. To get this perfect, don't do a full half cup of oil. Do about 1-2 tbsp less than that. This gets the texture just right. I also use 1/3 wholemeal flour (so 1/2 cup wholemeal, 1 cup white), and I add some ground flaxseed. These changes make it moist without being sticky, and so nice and spongey! You can also add orange or mint flavour to the mixture.
You can use this recipe to make a sandwich cake, just double up and switch the tins in the oven halfway through.
I usually make a vegan buttercream to go on top, or you can just melt plain chocolate.
You can also stir chocolate chunks into the mixture. I made this recipe for a bake sale and no one guessed they were vegan! I topped with buttercream, and chocolate hearts. I might have a pic somewhere. I also have a recipe for making your own Creme Eggs, and you can modify it to make chocolate fondants. And I have a super awesome oat shortbread recipe that you can use for biscuits or pastry.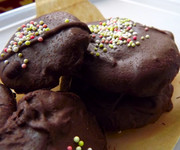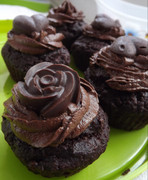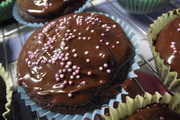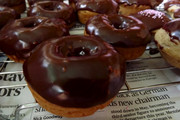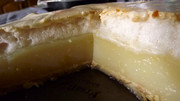 All vegan-friendly. And all making me super hungry for junk :(
Biscuits, cakes, cakes again,baked doughnuts, and lemon meringue. The meringue is made from
aquafaba
, which is the water from a tin of chickpeas. You add a bit of cream of tartar and sugar, and whip it up, and it behaves and tastes just like normal egg-white meringue. You can use it to make macarons and all sorts.
Those look awesome. How do you make vegan buttercream? I wouldn't mind trying that since I don't like using so much butter.